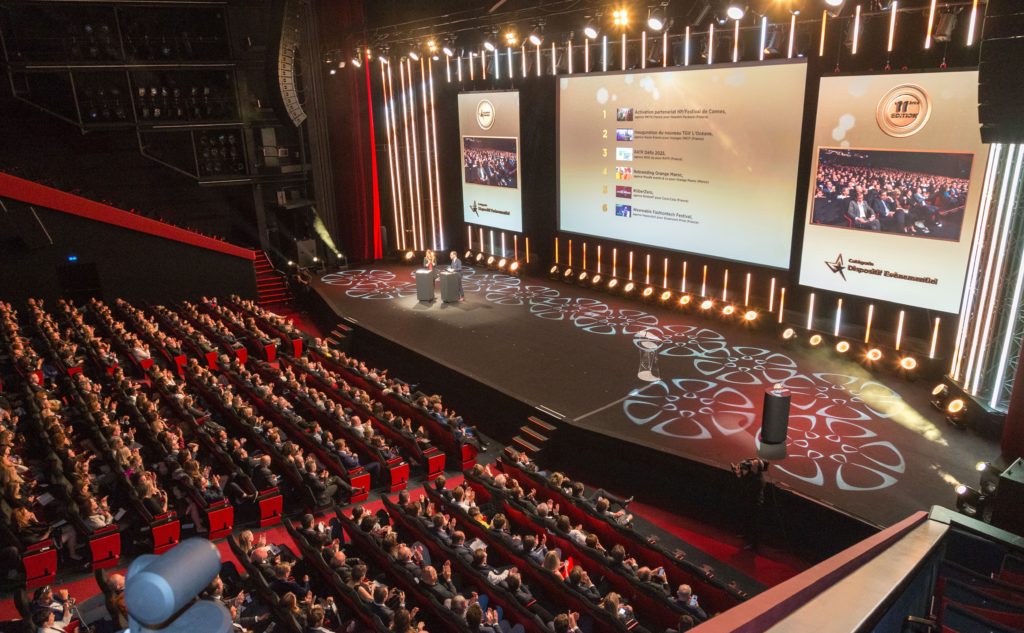 On March 29, in the prestigious grand auditorium of the Palais des Festivals in Cannes, will be awarded the prizes of the 12th edition of the Heavent Awards organized by Heavent Meetings (Weyou Group and the News Event).
In presence of all major industry players, these awards will celebrate and reward the best events and event productions of the past year. It is also a good occasion to honour the people working in our profession.
Several categories of events are represented:
– B2C event award
– B2B event award
– Award of the internal communication event
– Award of the exceptional event
– Award of sporting, cultural, educational or entertainment event
– Integrated event or multichannel event of the year
– Brand experience
– Forum, Summit, or Congress Award
The jury is composed of professionals having a position of Director / Manager of Event Communication and market operators. This year, Nathalie DEBRAS, director of communication at L'Oréal Luxe France will be the president of the jury.
As a freelance and professional of the event industry, this is for me the opportunity to watch what's best.
Last year, these trophies had a special meaning since I had the chance to participate as Head Of Production Manager at one of the events rewarded (Opening and Closing Ceremonies of the Can Feminine Cameroon). You can find here the replay of the ceremony:
https://www.youtube.com/watch?list=PLyGlZLudf2qo0g4UkMH3m8tvTU9N-xIy_&v=oNQCoeSPdYU
As a reminder, the winners of 2017:
– Category Internal event: 10 years of Arkema, Simple agency for Arkema (France)
– Category Event External Communication: The friendship breakfast, agency Just Cruzin Production for Tine (Norway)
– Grand Event Category: Samsung Life Changer Park, Magic Garden & Cheil France agencies for Samsung Electronics France (France)
– Category Seminar / Team-Building / Incentive Event: Summer Camp-Blend Dates 2016, Lever de Rideau agency for Nespresso France (France)
– Category Feature Event: Rebranding Orange Morocco, agency Mosaïk events & co for Orange Morocco (Morocco)
– Category Scenic Creation: Celebration of the transition to the year 2017, agency Les Petits Français for the Mayor of Paris (France)
– Exceptional Event Category: Samsung Galaxy S7-Molto Piu'di Uno Show, Eventually Agency for Samsung Electronics Italia (Italy)
– Jury's Coup de Coeur: Opening and closing ceremonies of the Women's Can Cameroon, Ekypage agency for the Ministry of Sports and Physical Education of Cameroon (France)
– Grand Jury Prize: Viva Technology Paris, Publicis Events agency for Viva Technology Paris (France)
You can find all information on the official website: http://www.trophees-de-l-evenement.fr/
Credit Photo : Blaise Tassou